Friend, just to be clear, I'm not just talking about just learning the ins and outs of your complete personality, or even discovering your unique and hidden talents.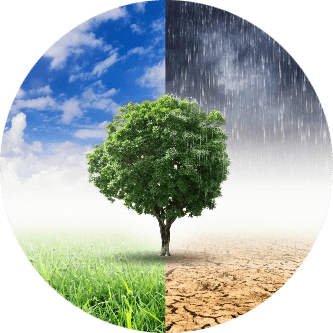 I'm talking about guidance that will equip you with EVERYTHING you need to achieve a COMPLETE transformation. What I mean by this is, you'll be able to counter every single obstacle standing in your way - now, and FOREVER.
As you already know, your Archetypal Initiation Cycle has already begun, and you've taken a major step forward to shape your future. Indeed, that's an excellent decision, and one that has set you on the path towards greatness.
Of course, nothing great ever comes easy - there will be challenges you must conquer... If you're not prepared for them, all the excellent progress you've made will be in jeopardy.
You see, as you encounter the complexities of your archetype, you're going to uncover several realizations about your direction and personality - realizations that might leave you with more questions than answers...
These questions might revolve around some of the choices you've made in the past... Like why you failed to consider the consequences of your actions, or why you failed to seize an opportunity.
But, more importantly, you're also going to encounter questions revolving around the choices you're going to make in the future.
Now, Friend, when you encounter these questions or dilemmas, do you really think you're going to choose differently?
Human beings are creatures of habit, wouldn't you agree? We gravitate towards restaurants and seats we've ate at and sat at before. We gravitate towards people who share our principles and priorities. We gravitate towards all things we consider familiar.
So, even if you are completely familiar with your archetype and your true self... What tends to happen is you will fall back into the pattern of old habits. Once again, you'll allow fear and uncertainty to take control over your decisions. And once more, you will continue to reside within your status quo.
Of course, I'm going to show you exactly how you can avoid all of that. With the right tools in hand, you WILL come out of your Archetypal Initiation Cycle with POSITIVE and PERMANENT changes - not just within yourself, but also within your circumstances and responses to opportunities.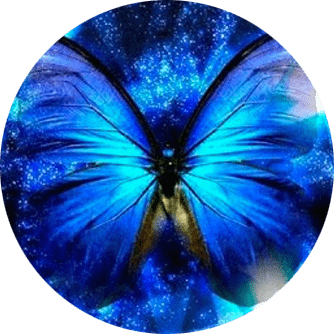 Before we proceed, I'd like to remind you this is a One Time Only Offer. This means it's paramount that you not only go through this entire page, but you also pay close attention to my instructions. In other words, Friend, you will not get to see this page again - EVER!
As I mentioned earlier, in the weeks, months, and year to come, you're going to encounter extraordinary changes in your life - opportunities leading to abundance, self-discovery, and purpose. But, you're also going to encounter challenges, doubts, and fears.
And all of those challenges, doubts, and fears are manifestations of your Shadow - the Archetypal representation of the suppressed side of your personality. The part of you that's difficult to look at, and difficult to connect with.
I'm talking about negative energies, limiting beliefs, blockages, trauma, past experiences, bad habits, self-doubt, fear, hate... All the impurities of ourselves we constantly sweep under the carpet.
Now, just because we've buried it, doesn't mean it doesn't exist. This might throw you off guard, but it's alive and well. It's affecting our decisions, our emotions, our perceptions - and not in a good way.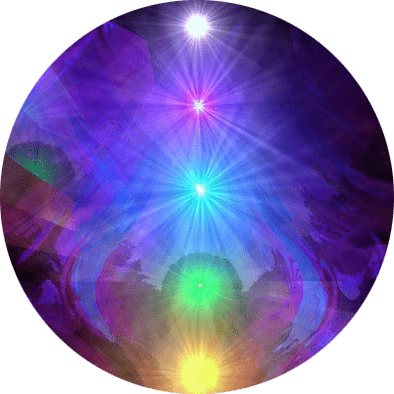 So, now that you know of your Shadow's existence, even after encountering your archetype and being made aware of your purpose and direction, what do you really think is going to happen when you come face-to-face with a new and exciting opportunity?
...What tends to happen is you'll avoid it almost entirely - ignoring it even. Why? Because your Shadow will convince you that you don't deserve happiness, that you don't have what it takes, that you've bitten off more than you can chew...
...Just as your Shadow has convinced you to miss opportunities in the past. Just as how its convinced you to question your confidence. And at the end of it all, you'll find yourself back where you started, stuck at square one, with nothing changed and nothing gained.
At least, that's what kept happening to me... Until I learned about my Shadow.
Friend, this is precisely why I'm making this exciting offer to you. So you can avoid all the mistakes I made when I embarked on this journey, and so you can make remarkable progress with even less effort.
Send in your request for your Diminishing Your Shadow Report and you will receive a complete breakdown of every single facet, trait, and insight encompassing your archetype's Shadow.
This report will give you a good measure of the impurities residing within your Shadow, and allow you to transform all aspects of your life - your relationships, your career, your health, and your abundance.
It also includes effective methods and exercises that will guide you through exactly what you need to do to control, overcome, and ultimately, diminish your Shadow.
You're already aware of how significant this portion of your Archetypal Journey is, so not only will you be embarking on a self-discovery journey like no other, but you'll also be actualizing the progress of your transformation.
Finally, you'll be equipped with all the tools you need to attract and retain all the abundance of the Universe - no compromises.
And that's not all - I'd also like to add in something else that's really going to POSITIVELY IMPACT your transformation.
Along with your Diminishing Your Shadow Report, I'm also going to give you your Shadow Metamorphosis Guide - consisting of a complete year of intricate and intimate Shadow guidance.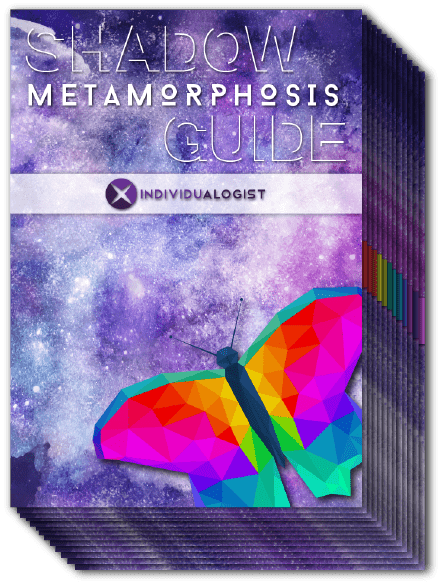 So, if you're dubious about a single report giving you a sufficient amount of insight to make the changes you want to experience, your Shadow Metamorphosis Guide will be there to hold your hand and walk you through this journey.
This includes readings, instructions, and exercises that have been carefully planned every single day, across an entire year. That's 360 readings, so you'll never go a single day without direction and answers.
And at the end of this guide, as long as you follow it diligently and you do not miss a day, there is no doubt you will experience a full emergence from your Shadow.
As you can already tell, this is an extremely rare offer, and one that you're going to see once - and ONLY once. Naturally, Friend, you MUST consider your next move very carefully.
If you choose to say yes to changing your life right now, I am going to reward you INSTANTLY. Claim your Diminishing Your Shadow Report, and you're also going to receive 8 ADDITIONAL bonuses at NO EXTRA COST.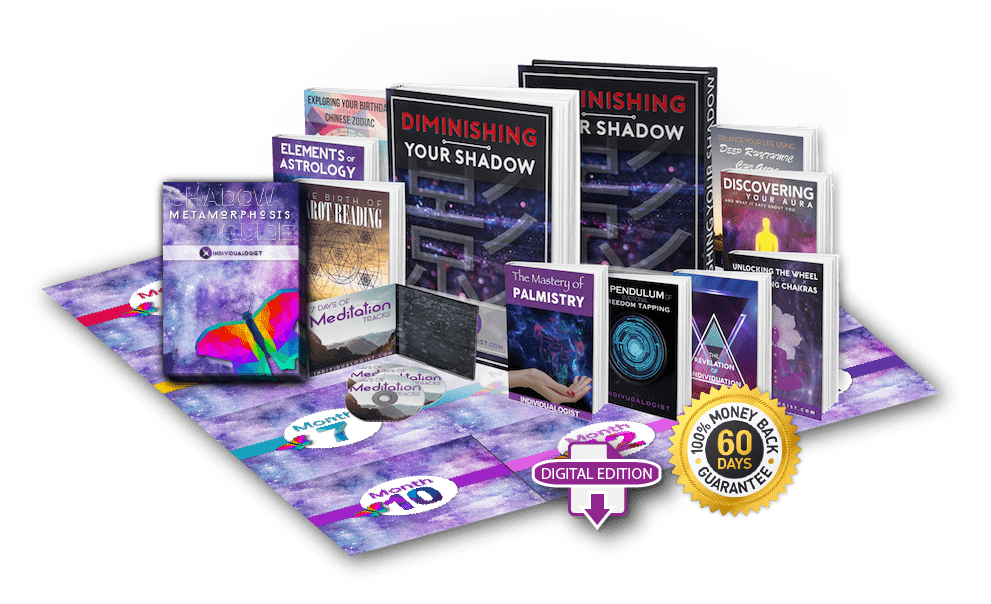 These additional bonuses are my personal go-to materials that will not only enhance the rewards of your self-discovery journey, but also open up your mind to the true potential of the metaphysical realm.
Diminishing Your Shadow Report (Value $97.00)

We analyse your shadow in excruciating detail and provide you with over 200 pages of highly specific, accurate, and revealing information about your Shadow!

You'll attain a profound understanding of your purpose in life, your personality, and direction!

Shadow Metamorphosis Guide (Value $197.00)

360 days worth of daily readings, insights, and exercises to guide you through the shadow diminishing process

You'll never have to wonder whether you're on the right track, and you'll have something to rely on for the rest of the year.

7 Days of Meditation Tracks (Value $69.00)
The Birth of Tarot Reading (Value $37.00)
Unlocking the Wheel of Your Channeling Chakras (Value $37.00)
Elements of Astrology (Value $37.00)
The Pendulum of Emotional Freedom Tapping (Value $37.00)
The Mastery of Palmistry (Value $37.00)
Balancing Your Life with Deep Rhythmic Chi Gong (Value $37.00)
The Revelation of Individuation (Value $37.00)
Now, with your Diminishing Your Shadow Report, Shadow Metamorphosis Guide, and these 8 additional bonuses, the value of this entire offer is set at over $600!
BUT. It is absolutely important to us that we make all of our offers as affordable as possible - because that means we're able to help more people discover their true potential, and uncover their true direction.
In other words, you're NOT going to invest anywhere NEAR $600.
Once again, if you're absolutely certain that you're ready to move out of your comfort zone, to change your status quo, to mould your own reality... I'm going to IMMEDIATELY slash the price by over 75%!
That's right - instead of the original price of $600, I'm going to give you this opportunity for just $97 - an instant 80% OFF, for simply saying 'Yes' right now!
Right at this moment, the barrier standing between your status quo and attaining your innermost desires is set at just $97 - that's less than $10 per material!
As soon as you proceed, you will receive your Diminishing Your Shadow Report, containing all the insights and intricacies about your Shadow. A report that will prepare you for the challenges lying ahead of you. A report that will cement your growth and progress during this self-discovery journey.
You will also receive your Shadow Metamorphosis Guide - a complete set of 360 highly effective exercises, insights, and readings that will practically confirm your transformation.
And on top of that, you will also receive all 8 additional materials at no extra charge. This is your one and only chance to be absolutely certain of the evolution you're about to experience, and finally realize your maximum potential.
To claim this exclusive offer right now, simply click on the button below and your Diminishing Your Shadow Report, your Shadow Metamorphosis Guide, and all 8 bonuses will be YOURS!
Friend, if you have not achieved the life of your dreams because you haven't done what you needed to do, then you're definitely not going to experience the same miraculous change without any help.
This is your opportunity to receive help. If you pass on this chance, you're going to be left in the same exact position as you were moments before. You're not going to move any closer to achieving the life of your dreams. And you know what?
Life isn't going to wait up for you...
There comes a time in everyone's life where they must make a defining choice. The choice to let go of your pride and admit what you're doing isn't working, and you're in need of help.
I too, have had to make that choice. And as soon as I chose to embrace change, everything else in my life started falling into place.
Before you know it, the window that will change your life will close, just like the other opportunities you've missed... How silly would that be?
Every day, you only have two decisions to make. To feed your shadow and keep living the way you've been living... Uncertain, unsatisfied, and uncontrolled... OR. You can choose to control your shadow. Master its tendencies and transform EVERYTHING about yourself... That is your key to unlocking the life of your dreams.
Friend, how many more opportunities do you have to miss before you decide to take action?
Take that first step forward right now - because you DESERVE abundance, you deserve the life you envisioned, and most of all, you deserve happiness!
"...A Spot On Reading, With Lots Of Information..."
The Diminishing Your Shadow Report is a spot on reading, with lot of information about understanding the repressed shadow in us and how to embrace it so that we can be fully integrated...
I believe the Individualogist Team has crafted this product with lot of care and love... I want to thank the Individualogist Team for their contribution in making this world a better place to live.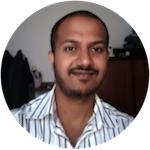 Vashist Reddy Luthmoodoo, 34, Research Analyst - Creator
"...Most in-depth report I have ever received..."
...This program from Individualogist is the most in-depth report I have ever received and one of the ONLY ones I have found that is not cookie cutter made for each different personality type. The Diminishing Your Shadow Report I received allowed me to better understand the most intricate details about myself that I had not even realized were lying beneath the depths...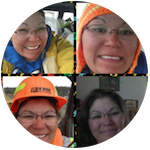 Kikono Savo, 35, Single Mother and Caretaker - Innocent
Now, Friend, you have two options. You can continue on the path that you're on right now and stay exactly the way you are, unaware of your shadow's existence and how you can control it.
Or, you can identify your shadow's presence and gain complete control over your life's direction, AND experience an abundance of love, health, and wealth in your life.
All you have to do is click the button below and your Diminishing Your Shadow Report, Shadow Metamorphosis Guide, and ALL 8 bonus materials will be sent to you INSTANTLY.
As soon as you're ready, click on the Order Button button below!