Harnessing the power of positivity has become indispensable in today's world. With the advent of social media and instant gratification, our will and desire to improve ourselves have slowly depleted. As man becomes used to having things without the need of exerting much effort and patience, man desires less and less in life, creating a cave on his own.
Being in this cave has its benefits. One can easily be comfortable and will eventually opt not to go out of it. But as one decides to move forward, going out of this cave is crucial for it is the only way towards progress. Even though one will inevitably struggle, only by means of facing such human condition will one "truly live."
As such, we at individualogist.com dedicated a series of blogs on how to utilize our one real weapon in this journey – positivity. By being able to wield this unique spear, one can become more than what the situation dictates him/her to be. Wielding this positivity, an individual is able to transcend the predetermined notions before him.
With the example of Sisyphus, a person's life and meaning can be trapped by what is bestowed upon him. However, a simple shift in focus can easily change the direction, just as how Sisyphus saw a moment of victory despite the endless struggle that he has to put up with.
Similarly, understanding our life from this paradoxical position will lead us to become better individuals who have the capacity to go beyond. As such, we have laid out fundamental ways on how to attract positive energy in your life. After having analyzed the human condition, one must master the will to incorporate positivity in all aspects of his/her life. By having that understanding that positivity stems from within, it is easier for us to proceed with integrating it to our daily activities.
By reading through the six fundamental tips presented in the previous article, we definitely will have a sense of how to do it. Even so, we may ask – what are the practical and actual ways of harnessing positive energy in our lives?
Unlike other articles online, we have taken a systematic approach to this matter. Whereas they use the shotgun approach of just firing out incoherently, this section will be presenting suggestions according to three key areas in your life – physical, mental, and spiritual aspects. By doing so, you can follow at least three of these five tips and incorporate them into your life to see the results!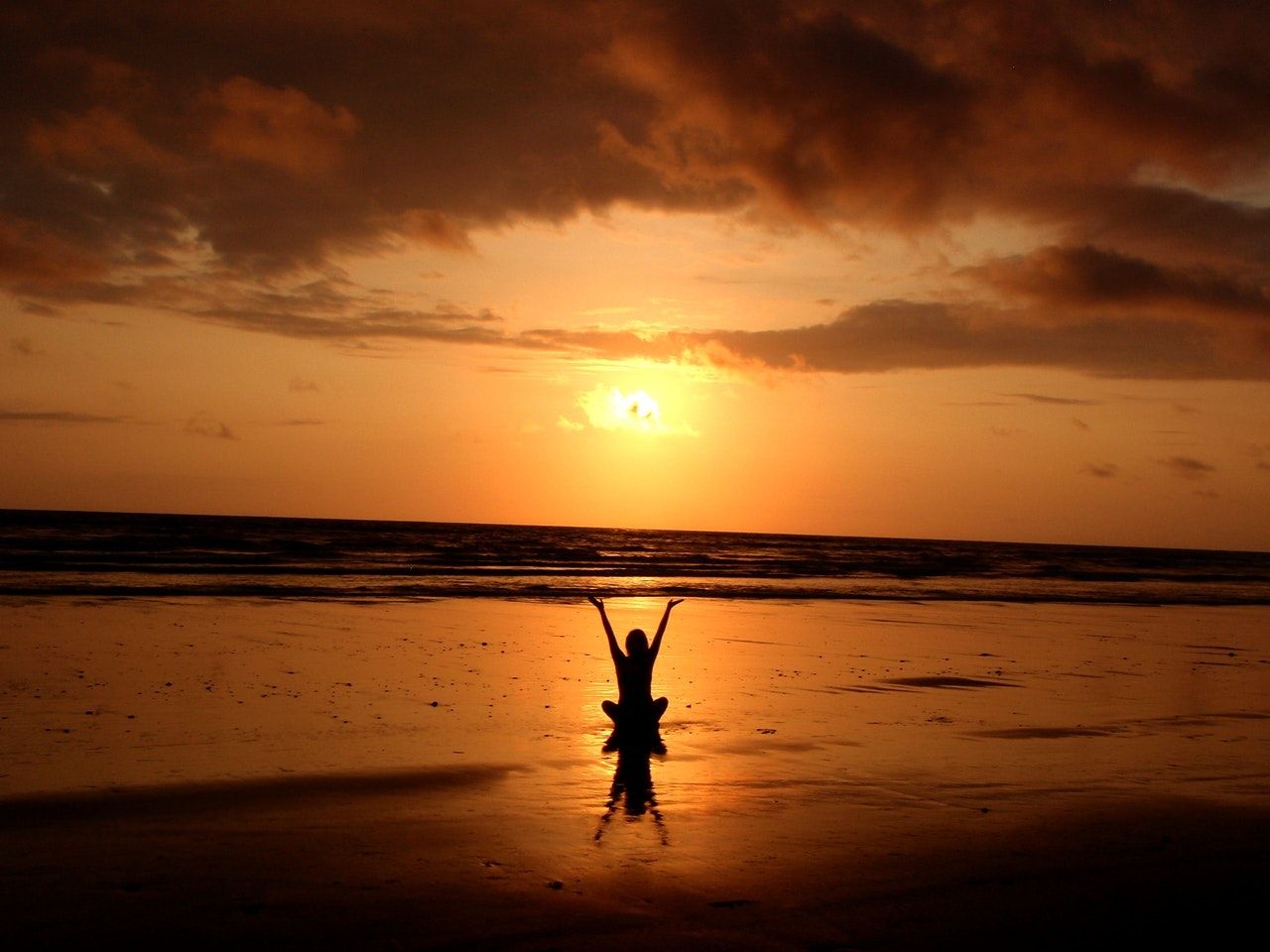 15 Tips on How to Attract Positive Energy in Your Life
Physical
1. Exercise Regularly
When doing exercise, your body undergoes strenuous processes. To reward this effort, endorphin is released. As such, this chemical is known to reduce pain and elevate your mood, physiologically leading you towards a more positive mindset.
With that, a person who regularly exercises will find it a lot easier to harness positivity given their positive lifestyle. Studies suggest that even a simple 30-minute walk will already activate regions of the brain, which will lead to a more healthy lifestyle.
2. Be Mindful of What you Eat
Have you ever noticed when you frequently consume pizzas, burgers, and hotdogs, you feel tired and stressed in life? This is because the kind of food you eat also carries a specific vibration with it. With processed food that utilized rigged processes, you can also expect that the chemicals and preservatives in it will have an effect on your body.
By eating green and natural food, you'll alleviate the stress that processed food brings. As you become healthier in following this track, it is only natural for you to be happier and have a more positive outlook in life.
3. Get Enough Sleep
ADVERTISEMENT
For the third tip, getting enough sleep is often something that's easy to say yet difficult to do. With the tasks that we have to finish (even at home), sleep deprivation is often a phenomenon that is overlooked. People came to simply accept that their sleep of 5 to 6 hours a day is more than enough.
However, in reality, studies suggest that we generally need at least 7 to 8 hours of sleep every day. In doing so, we allow the body to engage in its recuperative process, as it refreshes its system during the downtime. By getting enough sleep, our bodies are supercharged, giving us more than enough energy for the day.
4. Wake up Early
Following the previous point, getting enough sleep isn't going to solve the problem if you're going to wake up on the wrong hours. With our body having a system of its own, adjusting it towards the wee hours will also change the physiological responses that we have.
As such, when we sleep late and wake up late, even if we had enough sleep, we may still feel tired. When we are, our body reacts in a way that it wants to sleep all day on that bed. With that, we become less productive and positive overall.
By setting an internal body clock, we become masters of our own selves. This will grant us the feeling of being in control, which can lead to positivity.
5. Say Thank You
Lastly, being grateful is known to bring positive impacts to the body. When we create this habit of being positive towards the blessings that we have, certain regions of the brain are activated. In particular, serotonin production is enhanced when we remember positive memories or think of positive thoughts.
As a matter of fact, this method is often used to treat depression. When people feel down and cynical about their lives, one of the best ways to go is to help yourself by actively attracting positivity.
Mental
1. Let go of what hurts you
In order to harness positivity, letting go of what hurts you is indeed a crucial step. When we keep on attaching ourselves to negative thoughts and feelings, we end up clogging the pipes within our brains. Instead of being filled with new positive ideas, concepts, and things to hope about, we attach ourselves to the past and the broken.
Letting go of what hurts you is like having a jar full of hatred. When you choose to pour out such negative feelings, this jar becomes empty. Does it become positive? Not necessarily! But by doing this first step, you create the opportunity for it to be.
2. Learn to Say No
When you have your jar empty of the negativity that once filled it, learning how to say no is essential for you to keep it free from such. More often than not, people are led to the wrong things in life when they are not able to reject others for the right reasons. Out of naïve kindness, we allow the wrong stuff to enter our lives even when we had the power to say NO to them.
ADVERTISEMENT
Once we master this art of kindly rejecting people and things that aren't good for us, we are able to subtly avoid the small spirals of negativity. In doing so, we won't need to spend time and effort for something that will only bring us unnecessary pain and suffering. This will create more opportunities for us to be positive in life.
3. Worry Less
On another angle, always worrying about things also has its toll on you. Like sitting on a rocking chair, worrying leads you to become distressed about things that you have no control of. Just like the rising and the setting of the sun, there are things in life that we don't have to constantly think of.
Practicing this skill, we become less attached to life's uncertainties. By being such, we become better versions of ourselves as we are able to master our own emotions instead of it controlling us.
With this proper mindset, we create a condition in our minds wherein harnessing positivity becomes a whole lot easier for us!
4. Love and Accept yourself
Self-love and acceptance are things that can only stem from within. If we fail to realize such, we will never see ourselves from a positive angle. For instance, even though you may have a unique skill of being able to play the piano well, your lack of self-appreciation can often derail you from seeing such a blessing.
Whereas others enjoy your company of being able to play such good music, you are there, lamenting on the countless hours you've forcibly spent learning the piano as you were ordered to.
As such, when you fail to see this greatness, others can't see it for you. By realizing your gifts, you are already harnessing the power of positivity.
5. Be the ruler of your own thoughts
Negativity often happens when we are not in control. When we let other external factors decide the path that we will take, it will usually result in bad outcomes given that we were unable to take the initiative in it.
In a different approach, positivity requires us to be active. When we want something, we simply can't wait for it to happen. Harnessing positivity requires us to act upon it by thinking of what we want and ways to achieve it.
Just like the classic Chinese proverb about one wanting the nail and eventually losing the war, the lack of ability to control oneself can lead to devastating losses.
Spiritual
1. Meditation
ADVERTISEMENT
As the bread-and-butter of spirituality, meditation is the practice of sifting through one's conscious and unconscious thoughts. By having time for relaxation and complete focus, one is able to assess things for what they are, instead of unnecessarily thinking about it.
By practicing meditation, you are able to actively remove the unconscious negative thoughts in your mind that prevents you towards greatness. Instead, you can focus your unconscious thoughts towards positivity as spirituality becomes the gateway to harness it subconsciously.
2. Utilize the Law of Attraction
In harnessing positivity, it is crucial to attract such in a manner where you are in-line with what the universe has for you. By thinking and aligning your vision with the universe, such will unravel itself to you without the need of forcing things in.
As one of the most effective ways to harness positivity in your life, the law of attraction helps you by programming your subconscious thoughts towards it. By giving positive energy towards the universe, good karma will also return positive outcomes to you, as it improves the direction of your life.
3. Reiki
This ancient practice of spirituality is, perhaps, one of the most effective ways to do and live out positivity. Through its five principles, one is able to embody positivity in a consistent manner. Beginning with the phrase "just for today," one need not fret about tomorrow, or the past for the focus is on the present.
Coupled with positive phrases such as "I will not worry", and "I will be grateful", Reiki only proves to be a vital component in living out one's desire to harness the power of positivity.
4. Use the appropriate Healing Crystals
The power of vibrations contained in each healing crystal proves to be one of the many spiritual ways to harness positive energy. Given that these gemstones are vessels of energies coming from mother earth, they will inevitably aid you in your journey to harness the power of positivity.
Each healing crystal has its own value and power, allowing it to be flexible depending on the application that you need. For instance, Rose Quartz is known to bring positive energy towards relationships, while Black Tourmaline can remove negative energies in your life.
By wielding the power of these stones, harnessing the power of positivity becomes a whole lot easier for you!
5. Re-balance your Qi Energy
More often than not, this is the aspect of spirituality that people commonly overlook. Whereas a lot of us can focus on positive thinking and mindset, forgetting that energy flows around us will lead to further hindrances in harnessing positive energy.
As such, it is crucial to point out that Qi energy, or whatever universal force you may call it, is the basis of all life in this world. As a source of lifeforce, knowing the flow of Qi energy is crucial if we genuinely want to become positive in our approach.
ADVERTISEMENT
By balancing Qi energy through practices such as chakra healing and chakra meditation, the ebb and flow of such become seamless within us. This will grant inner harmony which plays a major role in harnessing the power of positivity.
…
With these 15 tips to harness positive energy in your life, we hope to have imparted to you some general ideas on how to concretely apply positivity in key areas of your life. By segmenting such with physical, mental, and spiritual sections, you'll easily be able to pinpoint which sections need adjustment.
Just remember that the secret to harnessing the power of positivity lies in consistency. By being able to incorporate these tips regularly, you will be able to build a habit of being positive, something that is definitely crucial on your journey onwards. After all, harnessing its power requires constant practice, as each time you repeat these steps, you'll master them and gain a deeper understanding of their underlying principles.
The Individualogist Team is made up of archetype fanatics, individuation practitioners, and spirituality fans. Our humble group has banded together to deliver thought-provoking, life-changing, and growth-probing wisdom.