When you start to learn how to read your astrology wheel, you'll need to understand the meaning and purpose of the astrology houses in your birth chart, so that you can accurately read the charts with the use of your birth date.
To help you along, we'll be looking into the basics of the astrology wheel, details about the 12 Astrological Houses, and how they relate to your Birth Chart.
What Is An Astrology Wheel?
When you look at the astrology wheel (especially in the form of an advanced astrology chart), it all seems like one singular chart.
It's a common misconception! There are two astrology wheels.
Astrology Wheel 1: The Zodiac Wheel
This astrology wheel represents the sun's annual rotation around the earth, and this is where you'll find the zodiac signs (which are usually expressed in the outer wheel of the astrological chart).
Astrology Wheel 2: The Wheel Of The Houses
This wheel is based on the rotation of the earth around its axis. It's in this wheel where you'll find the astrological houses in your birth chart.
The wheel of the houses usually appears on the inner wheel on an astrological chart.
While the astrology wheels interconnect, the Wheel of the houses doesn't move once an astrological chart has been drawn instead it marks the moment in time that an event happened, or will occur, such as a birth.
How Houses Are Assigned At Birth
When birth happens, it's almost as though we are pausing the planets and taking a snapshot of the skies above us.
While the location of the planets and zodiac signs at the time of birth will be dependent upon what was happening in the heavens at the time of your birth, the houses form at the moment of birth. For example, the first house will always start just under the ascendant line or rising sign, and while the position of the houses remains the same throughout your life, the planets and star signs move around the houses influencing them with their energy as they move in and out of the houses.
What Are The 12 Astrological Houses?
In the astrology wheel of the houses, it's important to know that each of the 12 astrological houses represent the main aspects of human life.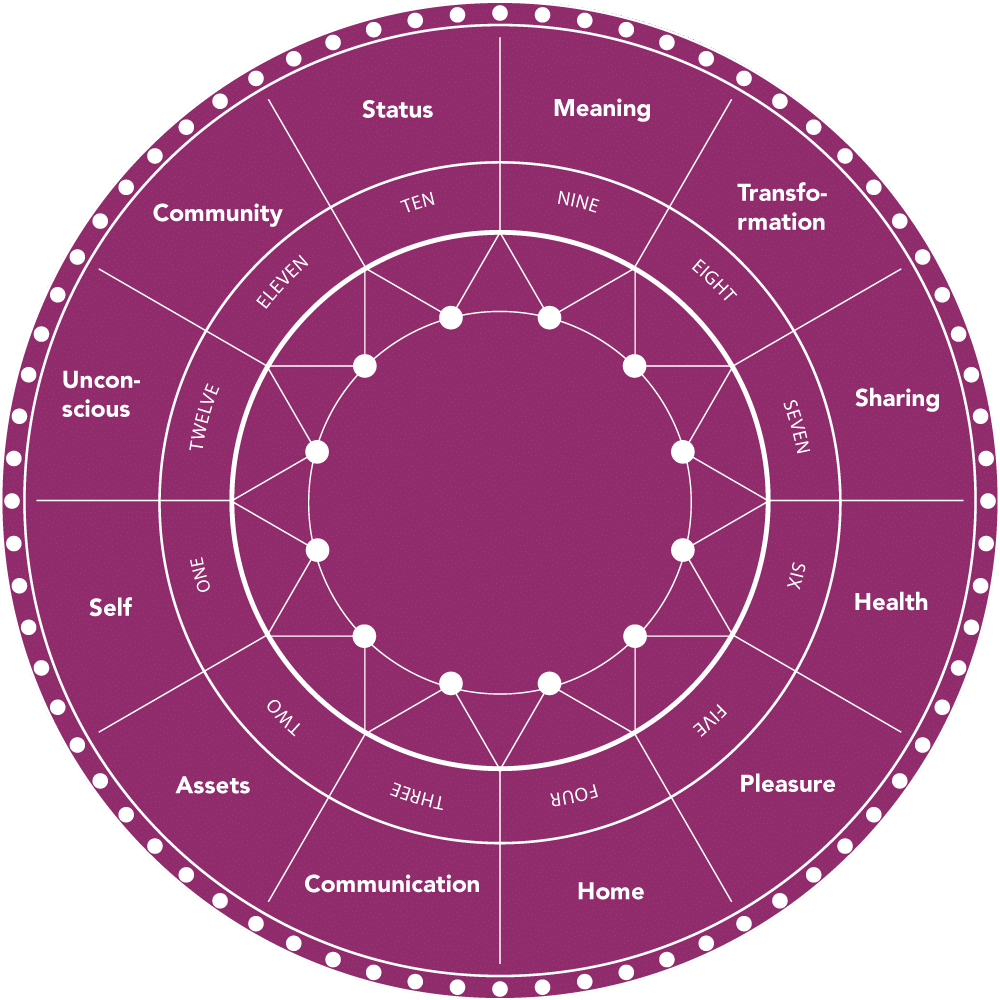 The zodiac signs and planets will influence each aspect of life as they move along on their specific rotations or cycles.
This is why you might hear somebody saying 'Jupiter is in your tenth house and will stay there for the next X years.'
ADVERTISEMENT
The position of the zodiac signs and planets within and around the planets at the time of birth can reveal more information about how an individual is influenced or inspired in general throughout these fundamental spheres of life.
For example, a person might have no planets in their first house, but they will have a zodiac sign that influences it which could be a combination of zodiac signs such as Taurus and Aries.
This means that your underlying energy concerning how you relate to your sense of self is heavily influenced by Taurus and Aries and their ruling planets (using the example above).
If you have a planet located in the first house of your birth chart, then you'd have the energy of the associated star sign or rising sign as well as the influence of the planet or planets that were in your first house at the time of birth.
This happens in all 12 astrological houses and it is quite possible that most of the planets could be bunched together in one or just a few houses.
The presence of planets in houses, combined with other astrological elements such as zodiac sign influences, and aspects, is exactly what makes astrology so powerful!
12 Astrological Houses' Meanings In The Astrology Wheel
Now that we know how the houses function in an astrology wheel, here's a quick guide to what the 12 Astrological Houses mean.
The First House – Self
The first house reflects the self. It covers our persona, physical body, sense of self-awareness, appearance, personal views on life, identity, self-image, our early life, how impulsive and active we are. It can even reflect your rising sign.
Any planets that are found in this house will be extremely present in your personality or Jungian archetype – they won't be subtle.
The Second House – Your Assets
This house relates to your assets, for example, your money, and how you value yourself (esteem, confidence, self-worth).
It also rules anything that you own (except for the home which is covered elsewhere).
It focuses on how you gain and spend your own money, and all movable property (clothes, cars, investments, etc.).
The second house also covers your attitude toward wealth and your potential for gaining or losing them.
The Third House – Communication
The third house covers all aspects of communication, whether that be with your voice, thinking patterns, how you read, write and interpret others.
It also covers intellect and the logical mind, which will reflect in how you hang on to details or value facts and information.
ADVERTISEMENT
Your logical thinking patterns will lie here, as will the influence of your early education.
The Fourth House – Home
The fourth house covers everything associated with the home, including the home itself.
It also relates to your upbringing, your emotions, your unconscious mind, your relationship with your parents, and also family, land, personal foundations.
While this is a brief overview of the houses, it's worth noting that the fourth house is very profound and is well worth researching further to find out more about what it can reveal to you.
The Fifth House – Pleasure
The fifth house is the house of pleasure, which includes both healthy and unhealthy pleasures.
It can include everything related to pleasures: personal interests, hobbies, risk-taking, self-expression, creativity, gambling, promiscuity, love affairs (not marriage or commitment though).
It's all about being yourself, embracing your inner creator, and either enjoying life or finding the balance between healthy and hedonistic behavior.
The Sixth House – Health and Service
In the sixth house, you can expect to find out how you perform your daily work, along with the quality of your work (but not your career).
It reflects daily routine, mundane tasks, and how we respond to everyday problems.
It also covers your health, diet, and propensity for sickness.
The Seventh House – Co-operation and Sharing
In the seventh house, you can find all one-to-one relationships which can include marriage, contracts, business partnerships, and their opposites, divorce, enemies, and lawsuits.
The seventh house also indicates how you relate to those close to you.
The Eighth House – Transformation
As you would expect, a house that rules transformation is easily confused or misunderstood.
The 8th house rules your joint possessions for example; what you jointly own with a spouse or business partner.
It also governs death, transformation, taxes, and inheritances.
ADVERTISEMENT
In general, the eighth house covers loss so that you might evolve and grow. But in some cases, the loss can be the loss of poverty (in exchange for an inheritance).
Whatever happens in this house it will be transformative, and it will bring us power.
The 8th house also rules sex and clairvoyance.
The Ninth House – Finding Meaning
The 9th house covers philosophy, law, learning, morals, integrity, travel, spiritual interest, wisdom, ritual.
This is a spiritual house with big ideas.
The Tenth House – Status
Status and honor rule this house – you can expect to find out how you influence (or would like to influence) community power, prestige, and your reputation, and professional career.
This house also includes financial success, but it's not about gaining material possessions.
Financial rewards arrive as a by-product of the sake of honor!
The Eleventh House – Community
The eleventh house is where you'll find large groups, friends, and a sense of community.
It can refer to memberships, goals, ambitions, those with joint interests. It also relates to self-realization, regulation, and liberty.
The Twelfth House – The Unconscious
The twelfth house covers all aspects of ourselves that are hidden from us.
Our unconscious thoughts, habits, memories, illness, karma, self-deception, limits, frustrations, and self-undoing.
It can also reflect things that take us away from everyday life such as hospitals, prison, secrets, hidden enemies and dangers, self-sacrifice.
The twelfth house also includes sorrow and endings.
Final Word
And there you have it – everything you have to know about the astrology wheel, the 12 astrological houses, and how each of them relates to your birth chart!
ADVERTISEMENT
We've covered a lot of ground so far, but that doesn't mean your astrological journey has to end here.
If you're ready to dive deeper, you can request a free birth chart reading here!
The Individualogist Team is made up of archetype fanatics, individuation practitioners, and spirituality fans. Our humble group has banded together to deliver thought-provoking, life-changing, and growth-probing wisdom.